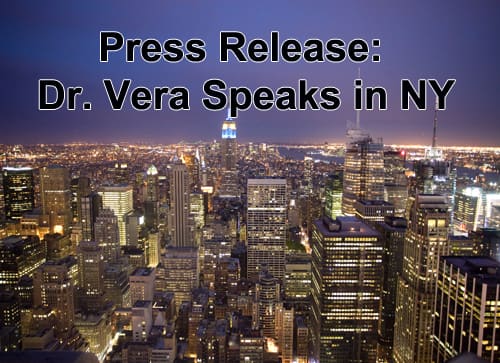 Fresh off the heels of the Icelandic leg of her "The Power Is Ours" international seminar series.  Dr. Vera Tarman landed in New York for a presentation that will discuss food addiction and why humans turn to food for comfort. Dr. Vera is not only a  world leader in treating addiction to drugs and alcohol, she is an innovator who treats food, notably simple starches, sugars and fats as an addiction for a growing portion of the North American population.
As a widely recognized expert, the Doctor  has been invited to inform front line workers, addictions specialists, as well as food addicts about how simple carbohydrates can drastically alter the brain and thus behaviours; in effect fooling the eater into replacing healthy choices with those that lead to obesity.
"With over sixty percent of North Americans registering as overweight or obese, and with the percentage of dangerously obese people growing at an alarming rate, we're glad to get our message out that the power really is ours." Say Dr. Vera.  "Once you treat comfort food as an addictive substance for some of us, you can take control. Unfortunately, diets don't work and government programs are geared to fitness more than fatness. Without being verbose, it's good to see growing support from front line workers like the ones we're meeting in New York and the ones we spoke with in Reykjavik."
In Iceland where Dr. Vera recently addressed a full house of receptive front line workers and nutrition experts, food addiction is recognized as a medical condition requiring professional treatment. "They tell me here that results have been phenomenal, especially when compared to traditional diet and exercise only regimens. Dr. Tarman plans to continue her "Power Is Ours Tour" with seminars in Barrie and Toronto, and other North American centres.
If you are a member of the media or are you looking for some educated thoughts on food, food addiction and why we eat for comfort? Please visit the Addictions Unplugged, https://addictionsunplugged.com.