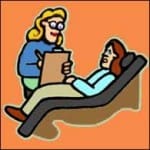 By Pat Guillet M.S.W
1. INTRODUCTION
Doctors don't hesitate to send their patients with alcohol problems to Alcoholics Anonymous.  Why do so few send their patients with eating problems to a similar group?  During my 13 years as a psychotherapist, I have referred many of my clients to a twelve-step group such as Food Addicts Anonymous or Overeaters Anonymous.  I have found that many of my clients who have anxiety and depression also have eating issues.  What follows is a summary of my experience.  Any twelve-step group has not approved this blog entry.
2. WHAT ARE TWELVE STEP GROUPS?
Twelve Step groups are self help groups based on the same principles as Alcoholics Anonymous.  They are free – self-supporting – which means they pass a basket at meetings to pay for rent, etc.  But no one is obliged to pay.
The twelve steps are a set of emotional or psychological steps that are taken that help you recover from your addiction.  For example, the first step is admitting you have a problem.  The second step is in believing that a power greater than yourself can help you with that problem.  Even though there are no professionals, the groups work well because people who recover stick around.  Experienced members report that their lives are better when they attend.  And they risk relapse if they don't go to meetings and continue to help others to recover.
3.  BENEFITS AND PROBLEMS:
I will first outline the benefits of 12 step groups. I will address the problems or difficulties next.
PROS
There are many advantages to 12 step groups.  They are free; they are in almost every small town and urban centre.  For example, about 6,500 Overeaters Anonymous groups meet each week in over 75 countries. There are approximately 54,000 members worldwide.  There are hundreds of Food Addicts Anonymous meetings in the United States. Both groups have many telephone and internet meetings per week.  For quick reference, see below for Food Addicts Anonymous meetings in Toronto alone.  In 2010, Alcoholics Anonymous reported over 2 million members worldwide and over 115,000 groups. 
In O.A. and F.A.A. I hear people say, "I lost 90 lb. and I kept it off for 20 years."  Or, "I lost 20 lb. or 60 lb. and I kept it off for 5 years."  Other weight loss programs help you lose the weight, but most people put all that weight back on at some point, usually within a year.  Twelve step groups seem to have the best track record for long-term weight loss and recovery.
Other advantages are:  You are in charge of your recovery; you decide what you need to work on; you progress at your own pace. Twelve step groups help to heal shame and isolation.  You are no longer alone; other people have done what you have done with food. The excellent formats and guidelines for group conduct make it a safe place.  For example, there is a rule of "no cross talk," which means people do not interrupt, comment upon, or refer to someone else's sharing.  You do not need to share, but when you are ready, sharing without interruption, in a safe place, helps you to find your voice.  (A.A. is the exception to this rule.  AA's often interrupt and give each other feedback.)  And lastly, many sponsors (experienced members) are available for phone calls every day.  You do not have to wait for an appointment with your therapist.  You can call someone in the group at any time (within reason) whenever you have food cravings or when you want to talk about a problem. 
The twelve steps help you to deal with the thoughts, emotions and behaviors that fuel your addiction.  They give you tools to deal with all your life problems.  In my opinion, they are the best form of free therapy.
CONS
Many helping professionals have difficulty with 12 step groups.  Some don't like the spirituality.  Also the language is negative; there is talk about "powerlessness," "insanity" and "character defects."  In addition the language is old (1930's), Christian, and masculine.  The abstinence model is also problematic for some; harm reduction is a more popular approach for many professionals.  Some have referred a client to 12 step and saw their client have a bad experience with a difficult group member.  I have also heard of professionals who discouraged 12 step groups, thinking that their clients become dependent on the program and don't develop enough of their own autonomy.
All of these concerns are worth discussing.  Twelve step groups aren't for everyone.  But when they work, they really work wonders.  So, in my opinion, it is best to refer all your clients with food addictions to a 12 step group.  If it works, it's great.  If it doesn't, try something else.  I would like to take each of these concerns one by one.
The Spirituality
You do not have to believe in God in order to join or in order to recover.  Atheists and Agnostics have come to 12 step groups and have found recovery there.  Twelve Step Groups offer a spiritual program, but it is not related to any denomination or religion.  You can be Hindu, Buddhist, and Moslem, Jewish, Christian, Wiccan, Atheist, Agnostic or anything else.  You can make up your own religion.  Also the only requirement for membership is a desire to stop eating compulsively.  There are no other requirements.  Even the twelve steps are only suggested, not required.  The second step is, that we "Came to believe that a power greater than ourselves [can help us.]"  You can define that power any way that you want.  The strength and support of the group can be your higher power.  Your inner "Higher Self" can be your higher power.  And you can relate to your higher power in any way that is right for you.  You don't need to define your higher power to begin your healing in a 12 step group.   Learn what you can from the 12 step group.  Ask others what helped them recover.  Take the suggestions you like and leave the rest.
The language is negative – powerlessness – insanity – character defects
The language is masculine, Christian, and old-fashioned
These are both true.  However, I have seen such amazing success from my clients working the 12 steps; they have shown strong, positive changes, not only in their addiction, but also in their moods, their behavior and their whole way of life.  They have done this by using the concepts in the 12 steps, but translating the language to suit them.  For example, some change He to She and God to Higher Power or Great Spirit or Goddess, or whatever words work for them.  Language does not have to be a barrier.
Abstinence model
This is a valid concern.  If your client's goal is not abstinence, then it may be better to refer them to a counselor, clinic or treatment centre that specializes in food addiction and allows for a harm reduction model.  However, I have noticed that people who are not willing to give up sugar and flour struggle more with their cravings.  Your client may benefit from some education about food addictions.  (See Dr. Tarman's workshop and web site.)
No professionals
I was also concerned about the lack of professional leadership when I first heard about 12 step groups.  The F.A.A. food plan follows sound nutritional guidelines.  In O.A. all members are encouraged to consult a nutritionist or health care practitioner about their food plan.  In meetings, the group format is written out in detail, so the chairperson has only to read the script for the meeting to flow smoothly.  And the twelve traditions guide twelve step members towards behaviors that promote group harmony.
People in the program who are judgmental or inappropriate in their behavior towards your client.
Of course there may be bad experiences in any group, and difficult group members.  Help your client to avoid or speak up to people who are problematic.  Help them to surround themselves with people who show good recovery and can help them.
Do people get addicted to 12 steps and lose their own autonomy?
Twelve Step groups talk about how electricity gives us power – power to heat our homes, cook our food, build our cars and wash our clothes.  It is a power most of us would rather not do without.  People in 12 step groups say that they feel the same way about their groups.  Group membership gives them the power to live healthy, fulfilling, joy-filled lives, free from addiction.  They are dependent on the 12-step group the same way we are all dependent on electricity.  And they don't want to be without either.  They say that without their group meetings, they eventually fall back into their addiction and into self-sabotage or hurting others.  With the group, they have more choices to live happy, healthy lives.  Some people say, "My life is better than I ever dared dream."  "I have more power, more autonomy, and more choices, when I work the 12 step program and live the 12 step way of life."
4.  When to refer:
When your client says their eating behaviors feel like an addiction.
When their goal is abstinence.
When they say they feel powerless over their eating behaviors.
When they say they are not put off by the spiritual part of the program, or are desperate enough to put up with the spiritual language in order to recover.
When they are okay with going to a group.
Do refer anorexics and bulimics.  Many go to O.A. and F. A. A. and find recovery there.
5. When not to refer:
When they say it's not an addiction.
When they say they think they can stop on their own.
When they are very uncomfortable with the spirituality.
When they want a "harm-reduction" model, instead of abstinence.
 i.e. Don't refer someone to F.A.A. when they do not want to give up sugar and flour.  If they don't want to stop binging, don't refer them to O.A.  O.A. does allow for more flexible food plans, but there is an emphasis on abstaining from over-eating and binging.  Most, but not all, sponsors in O.A. encourage people to abstain from their binge foods.
When they are very uncomfortable in groups.
When they want an individual counselor or treatment centre instead.
I often encourage my clients to explore all three – a treatment centre, a counselor specializing in food addiction, and a 12 step a group to see what works.  If their addiction is severe, then I tell them my perception is that they have a severe addiction and that I recommend a treatment centre followed by a 12 step group to prevent relapse.
Pat Guillet M.S.W.
Shepell.fgi
Counselor
1-888-224-2053 x4508
416-654-5219 (Home Office)
Food Addicts in Anonymous Meetings
in Toronto
Tuesday
Mississauga, 7pm, Eden United Church, 3051 Battleford Rd., Map, Diana F. , 905-520-5799
Toronto, 7pm, Castlefield Community Church (1/2 block west of Yonge Street, 5 blocks north of Eglinton) , 27 Castlefield , Map, Dan B. , 416-456-0110 / Diana R. , 416-857-7559
Woodbridge, 7pm, Woodbridge Pool & Memorial Arena, 5020 Hwy #7, Map, Anna R. , 416-528-2329
Wednesday
Toronto, 7pm, St. Simon the Apostle Church, 525 Bloor St. East, Map, Mel T. , 416-323-0557 / Mel T. , 416-323-0557
Thursday
Scarborough, 7pm, Grace Christian Reformed Church; Northwest corner of 401 and McCowan Road next to the CTV Station, 25 Channel Nine Court, Map, Cathy C. , 416-282-7670
Toronto, 7:30pm, MNjcc, 750 Spadina Ave, Map, Dawn A. , 416-539-8259
Saturday
Toronto , 10:30am, Castlefield Community Church, 27 Castlefield Avenue, Map, Dan B. , 416-456-0110 / Lyne M. , 416-805-6780
Toronto, 10:30am, St. Simon the Apostle Church, 525 Bloor St. East, Map, Mel T. , 416-323-0557