Renascent Food Addiction Services:
Canada's leading alcohol and drug treatment center offers intensive short term treatment and recovery programs.
In the area of food addiction, two are offered:
5 -Day Intensive Outpatient Treatment Program
28- Day Intensive Inpatient Treatment
Learn More about Renescent's Food addiction Treatment Programs
ACORN Food Dependency Recovery Services
Group of abstinent and recovering food addicts committed to helping other food addicts
ACORN events scheduled for abstinence and recovery support. See upcoming events page for more details.
Visit the Shift Recovery by Acorn Website
COR Retreat: A Food Recovery Program 
This is a scheduled residential five day retreat held in St. Paul, Minneapolis. Held at least one week every month. 
Visit the COR Retreat Website
Contacts: Nancy-651-767-2702
Kari- 952-237-2887
info@cormn.org
The Diet Doctor
The DietDoctor.com is a website for people interested in Keto and Paleo food plans.
Because most of their food suggestions are sugar and flour free – they are an excellent place to find food plans and learn more about the value of living a sugar-free life. 
Keep up to date with the DietDoctor.Com
---
Individual Therapists
Therapists trained in food addiction
Martha Pierce, therapist, trauma, food addiction
dog.lady@rogers.com
Tony Vassallo, Obesity Management
tvassallo8@gmail.com
David Wolfe, Registered dietician (RD)
davidavramwolfe@gmail.com
Bitten Jonsson, Registered Nurse , Food Addiction therapist, and trainer
bitten.jonsson@bittensaddiction.com
Clarissa Kennedy, Food Addiction Counsellor 
crissy_kennedy@hotmail.com
Mike MacKinnon, Personal Trainer
fitin20@yahoo.com
Sandra Elia, food coach
Kimberly Mueller, M.S., food addiction coach and therapist
Florence Christophers, The Kick Sugar Coach
Anne BORIES, Food Addiction counsellor in France
anne.b111@yaoo.fr 0033645244610 Coach pour les troubles du comportement alimentaire
---
Food Addiction Support Groups
Grey Sheeters Anonymous (GSA)
GreySheeters Anonymous is a fellowship of men and women who share their experience, strength, and hope with each other that they may solve their common problem and help others to recover from compulsive eating.
Food Addicts Anonymous
Recovering together one day at a time from the biochemical disease of food addiction
Overeaters Anonymous
Overeaters Anonymous – Welcome to Overeaters Anonymous
FoodAddicts.Org
Food Addicts In Recovery Anonymous
SCAA.Club
Sugar and Carbs Addicts Anonymous
Alcoholics Anonymous
Alcoholics Anonymous is an international fellowship of men and women who have had a drinking problem.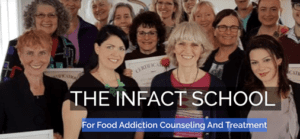 Learn from the Experts!
Welcome to the INFACT School – the world's first and only training for sugar/food dependency counseling which results in professional certification from an accredited certification body. Graduates qualify to receive a Certified Food Addiction Professional (CFAP) certificate from the European Certification Board  and now for US Citizen a CFAP US National Certificate from the New Jersey Certification Board.
---
Food and Sugar Addiction Training and Certification Programs
Become a Certified, Holistic Addiction Medicine Counselor!
1-Year Online Training: 2021
For complete information visit www.bittensaddiction.com or email info@bittensaddiction.com[/mail]
Sugar – Dare to diagnose
Sugar use general assessment recording
Click here for more information