Food Junkies Summit Day 1 !!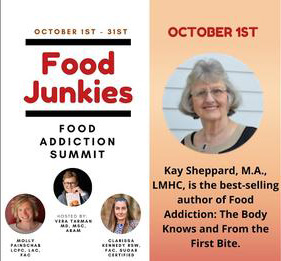 Kay Sheppard, M.A., LMHC, is the best-selling author of Food Addiction: The Body Knows and From the First Bite.
Since beginning her own recovery in 1977, Sheppard has helped thousands of people live happy and healthy lives by following her comprehensive recovery program.
Find out how to eliminate cravings for sugar, carbohydrates, caffeine, and personal trigger foods by using her Recovery Food Plan; how to recognize the dangers in so-called "health" foods; how to overcome emotional barriers to recovery; how to find recovery buddies; how to recognize the warning signs of relapse; and how to incorporate the Twelve Steps into your life to stay motivated and achieve success.
She is a licensed mental health counselor who conducts workshops for food addicts worldwide.