September 1 – 8, 2022
The Kick Sugar Summit is the world's first summit on the topic of sugar, sugar addiction and sugar addiction recovery. 
It was founded by Florence Christophers in 2015 to help others discover the physical, mental and spiritual benefits of reducing or eliminating their consumption of sugar and to raise awareness about the reality of sugar addiction and paths to recovery.  
 The 8th Annual Kick Sugar Summit is 100% free!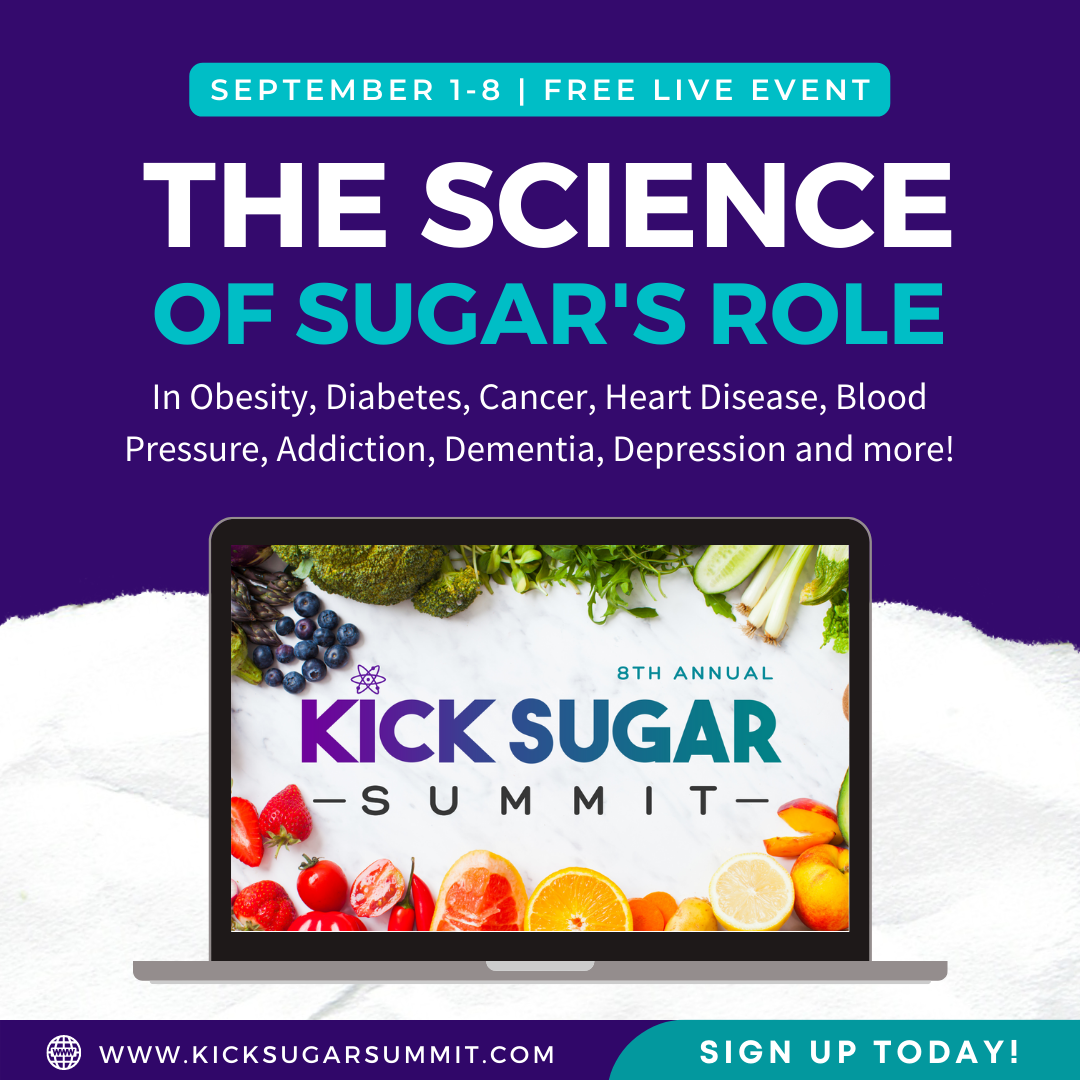 Your Hosts for The 8th Annual Kick Sugar Summit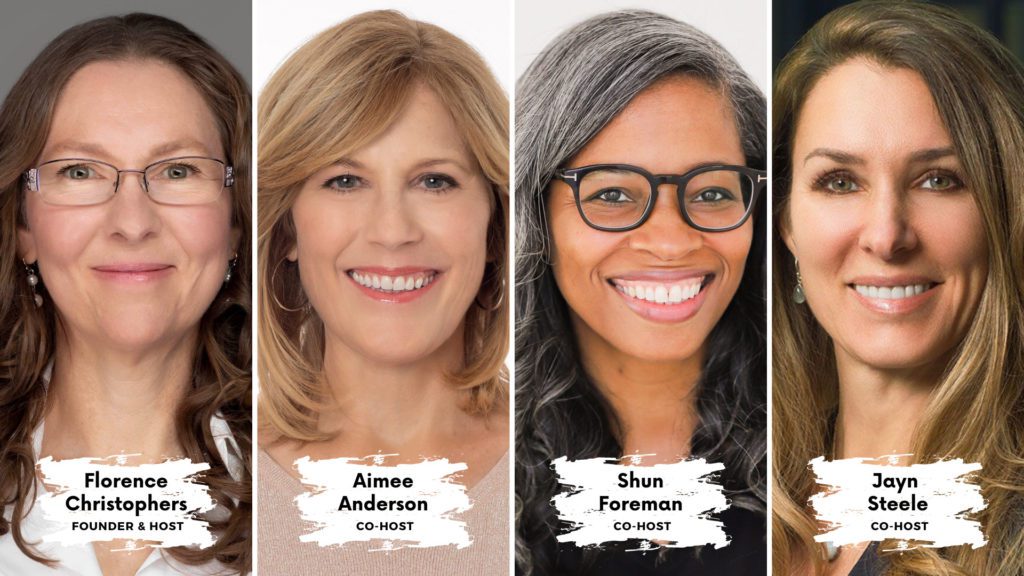 Let's meet the September 2022 Kick Sugar Summit Experts…
Dr. Robert Lustig

Professor Emeritus of Pediatrics & Endocrinologist at UCSF

Vimalasara Mason-John

Author, Life & Addiction Coach, TEDx Speaker, Co-Founder of 8 Step Recovery

Dr. Aseem Malhotra

Cardiologist, Public Health Campaigner, Author, & Writer

Dr. Bunmi Aboaba

Food Addiction Counselor, Speaker, Author, & Creator of the R4 Method™

Dr. Daryl Gioffre

Chiropractor, Health Coach, Celebrity Nutritionist & Alkamind© Founder

Marisa Peer

Hypnotherapist, Author, Creator of Rapid Transformational Therapy®

Dr. Richard Johnson

Practicing Physician, Medical Scientist, Professor, Researcher, & Author

Dr. Nikki Delk

Cancer Researcher and Founder of Arts for Science, LLC

Craig Emmerich

Keto Nutritionist, International Best-Selling Author, & Speaker

Dr. Anna Lembke

Author of Dopamine Nation, Professor of Addiction Medicine at Stanford

Dr. Chris Palmer

Psychiatrist, Researcher, Author & Assistant Professor at Harvard
Dr. Paul Earley

Addiction Medicine Physician, Author, Former President of ASAM and FSPHP

Kathy Williams

Diabetes Prevention Specialist, Author of Oh, So Sweet to Live Sugar Free

Chef AJ

Chef, Author, Host, Speaker, & Food Addiction and Weight Loss Expert

Chassidy Olainu-Alade

2021 Texas Social Studies Leader, Coordinator in Fort Bend ISD

JJ Virgin

NYT Best-Selling Author, Celebrity Nutritionist, Fitness Hall of Famer

Dr. Austin Perlmutter

Board-Certified Internal Medicine Physician, NY Times Bestselling Author

Dr. Daven Spires

Board-Certified Orthopaedic Surgeon & Creator of The Fat Doctor Program

Dr. Angela Stanton

Neuroeconomist, Author, & Developer of the Stanton Migraine Protocol 

Dr. John Dempster

Board Certified Naturopathic Doctor & Founder of The Dempster Clinic

Dr. Susan Peirce Thompson

Neuroscientist, Author, & Founder and CEO of Bright Line Eating®

Dr. Bonnie Kaplan

Professor Emerita at The University of Calgary, Author of The Better Brain
Prof. Tim Noakes

Scientist, Author, Emeritus Professor & Founder of The Noakes Foundation

Dr. Philip Ovadia

Cardiothoracic Surgeon, Author, Founder of Ovadia Heart Health

Ben Azadi

Certified Functional Health Coach, Author, & Founder of Keto Kamp

Dr. Radka Toms

Ophthalmologist, Functional Medicine Practitioner, CEO of MySugarStop™

Cristy "Code Red" Nickel

Athlete, Author, Celebrity Nutritionist, Speaker, & #2 World-Ranked Boxer

Dr. Vera Tarman

Food Addiction Expert, Writer, Speaker, & Author of Food Junkies

Dr. Jen Unwin

Clinical Health Psychologist & Author of Fork in the Road

Bitten Jonsson

Registered Nurse, Sugar Addiction Specialist, ADDIS/SUGAR Certified

Dr. Joan Ifland

Food Addiction Specialist, Author, & Founder of Food Addiction Reset

Jess Higgins Kelley

Nutritionist, Journalist, Author, & Founder of Remission Nutrition

Dr. Keesha Ewers

Integrative Medicine Expert, Board Certified in Functional Medicine
Even More of the 2022 Kick Sugar Summit's Speakers
Dr. Èvelyne Bourdua-Roy

Family Physician, Certified in Obesity Medicine, Founder of Clinique Reversa

Dr. Mark Cucuzzella

Family Physician, Author, Professor, & Scientific Advisor for Diet Doctor

David Wiss

Registered Dietitian Nutritionist, Founder of Nutrition in Recovery

Megan Ramos

Therapeutic Fasting Expert, Author, Co-Founder of The Fasting Method

Dr. James Greenblatt

Child & Adult Psychiatrist, Pioneer in Functional and Integrative Medicine

Sherianna Boyle

Emotional Detox Coach, Author, & Founder of Emotional Detox Coaching®

Dr. Nicole Avena

Author, Research Neuroscientist, Nutrition and Addiction Expert

Johnathan Cranford

Author, Level 2 Cross Fit Trainer, & Former USA Boxing Coach

Julia Ross

Nutrition Therapy Expert for Treating Addictions and Eating Disorder

Roberta Ruggiero

President and Founder of the Hypoglycemia Support Foundation
Wendy Speake

Trained Actress, Bible Teacher, Author & Host of The 40 Day Sugar Fast

Cathy Morenzie

Christian Weight Loss Coach, Personal Trainer, Author, Blogger, Presenter

Dave Wolfe

Registered Dietitian, Addiction Coach, Co-Founder of SUGARxGlobal.com

Dr. Joy Jacobs

Clinical Psychologist, Assistant Clinical Professor at UCSD School of Medicine

Emily August

Associate Professor of Literature at Stockton University & Body Activist

Dr. Tony Royle

Author, Triathlete, & Ambassador for Public Health Collaboration

Ede Fox

Host of The Black Carnivore & Creator of the Carnivore Accelerator Program

Dr. Sara Myhill

Naturopathic Physician, Author, Clinical Director, ME/CFS Specialist

Marion Nestle

Paulette Goddard Professor of Nutrition and Food Studies, Emerita at NYU
Dr. Ian Lake

General Practitioner, Type 1 Diabetes Specialist, Founder Member of PHC

Dr. Trudi Deakin

Registered Dietitian, Author, Chief Executive of X-PERT Health

Dr. Tro Kalayjian

Board-Certified Internal Medicine and Obesity Medicine Physician

Ocean Robbins

Author, Professor, & Co-Founder and CEO of the Food Revolution Network

Joyce Laszloffy

Founder and Creator of The I Kicked Sugar™ Course

Sharon Laflamme

Founder of Creating Serenity, Certified Somatic Experiencing® Practitioner

Karly Randolph Pitman

Author, Mental Health Trainer, Facilitator of Women's Groups

Martha Carlin

Citizen Scientist & Chief Executive Officer at The BioCollective

Dr. Eva Clemente and Dr. Raquel Delgado

Registered Doctors and Food Addiction Professionals