October 16th – 23rd, 2023
The Kick Sugar Summit is the world's first summit on the topic of sugar, sugar addiction and sugar addiction recovery. 
It was founded by Florence Christophers in 2015 to help others discover the physical, mental and spiritual benefits of reducing or eliminating their consumption of sugar and to raise awareness about the reality of sugar addiction and paths to recovery.  
 The 9th Annual Kick Sugar Summit is 100% free!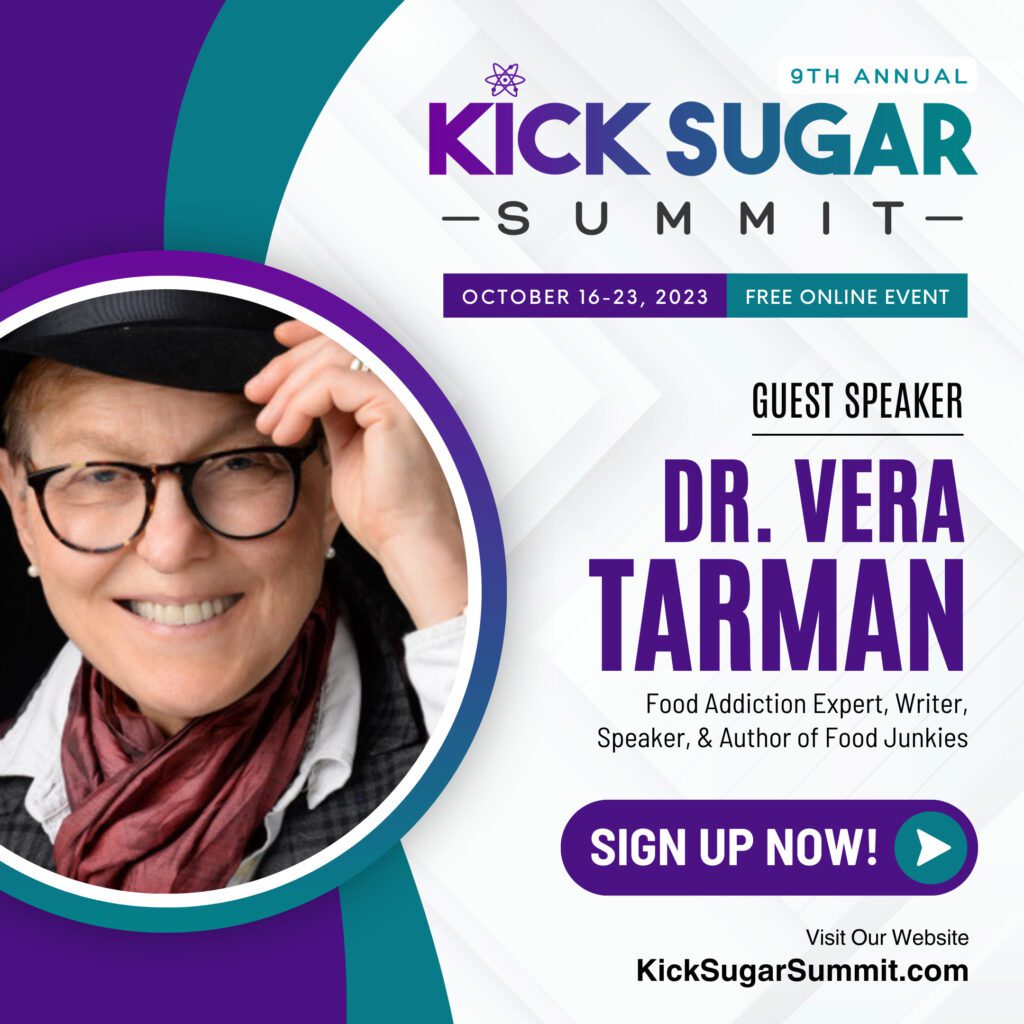 OUR GLOBAL EXPERTS 2023
Our experts are Doctors, Scientists, Psychiatrists, Nutritionists, Coaches, Authors, and more!
They span the spectrum in terms of what whole foods they eat and recommend.
Take what resonates with you and leave the rest.
A special thanks to our speakers for sharing their time, expertise and hearts with us!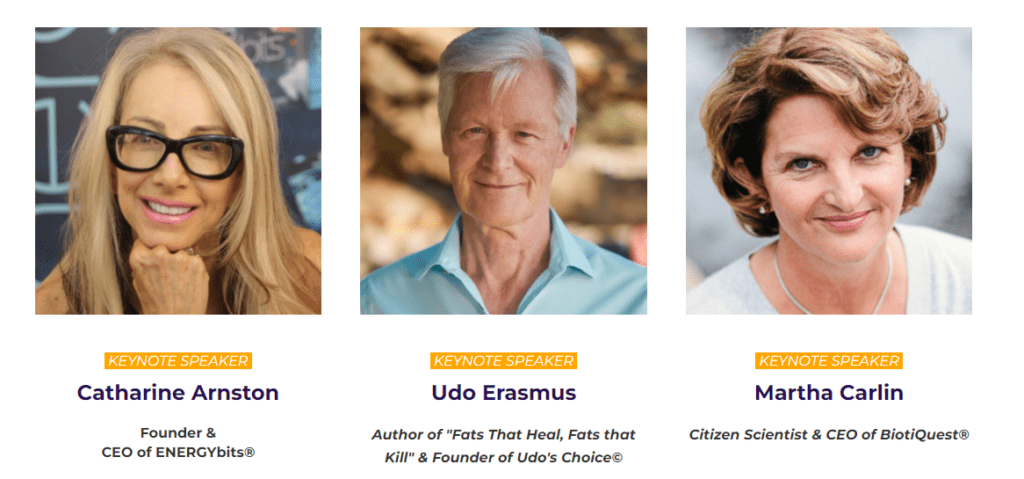 Let's meet the September 2022 Kick Sugar Summit Experts…
Dr. Robert Lustig

Professor Emeritus of Pediatrics & Endocrinologist at UCSF

Dr. Aimie Apigian

Board Certified Physician, Founder of Trauma Healing Accelerated, LLC

Dr. Richard Johnson

Board Certified in Internal Medicine, Clinician, ducator, & Researcher

Susan Peirce Thompson

Neuroscientist, Author, Founder and CEO of Bright Line Eating®

Eric Edmeades

Renowned International Speaker, Author, & Creator of WILDFIT®

Maria Emmerich

Keto Chef & Nutritionist, Speaker, International Best-Selling Author

Chef AJ

Chef, Author, Host, Speaker, Food Addiction & Weight Loss Expert

Luis Mojica

Somatic Practitioner, Trauma Therapist, & Nutritionist

Dr. Uma Naidoo

Author of "This is Your Brain on Food", Chef, Nutritional Psychiatrist

Dr. Nicole Avena

Author, Research Neuroscientist, Nutrition & Addiction Expert

Dr. Philip Ovadia

Cardiothoracic Surgeon, Author, Founder of Ovadia Heart Health

Megan Ramos

Therapeutic Fasting Expert, Author, Co-Founder of The Fasting Method

Joyce Laszloffy

Founder and Creator of the I Kicked Sugar™ Course

Dr. Charles Levkoe

Canada Research Chair in Equitable and Sustainable Food Systems

Amy Berger

Certified Nutrition Specialist & Nutritional Therapy Practitioner

Dr. Robert Lufkin

Author, Physician/Medical School Professor at UCLA & USC

Dr. Daryl Gioffre

Chiropractor, Health Coach, Celebrity Nutritionist & Alkamind© Founder

Dr. Paul Earley

Addiction Medicine Physician, Author, Former President of ASAM &FSPHP

Dr. Lewis Cantley

Cancer Researcher, Professor of Cell Biology at Harvard Medical School
Kelly McDaniel

Licensed Professional Counselor & Author of "Mother Hunger"

Dr. Sean O'Mara

Health & Performance Optimizing Physician and Researcher

Dr. Amy Reichelt

Neuroscientist, Researcher, Speaker, Consultant & Author

Dr. Gurpreet Padda

Interventional Pain Physician & Addiction Medicine Specialist

Dr. Ann Childers

Air Force Veteran, Child & Adult Trained Psychiatric Physician

Dr. David Cavan

Consultant Endocrinologist & Author of "Busting the Diabetes Myth"

Dr. Andrea Grayson

Author & Behavior Change Communications Consultant

Dr. Ian Lake

Gen. Practitioner, Type 1 Diabetes Specialist, Founder Member of PHC

Dr. Cate Shanahan

NYT Best-Selling Author, Family Physician, & Biochemist

Dr. Angela Stanton

Neuroeconomist, Author, Developer of the Stanton Migraine Protocol

Carlee Hayes

Registered Dietitian Nutritionist & Sr. Nutrition Manager for Nutrisense

Danielle Hamilton

Holistic Nutritionist Specializing in Blood Sugar Regulation & Digestion

Dr. David Katz

Internal Medicine, Preventive Medicine, & Nutrition Specialist

Cathy Morenzie

Christian Weight Loss Coach, Personal Trainer, Author, Blogger

Dr. Trudi Deakin

Registered Dietitian, Author, Chief Executive of X-PERT Health

Dr. Marty Lerner

Clinical Psychologist Specializing in the Treatment of Eating Disorders

Dr. Marcelle Pick

Author, Women's Health Expert, Functional Medicine Practitioner

Dr. Èvelyne Bourdua-Roy

Family Physician, Certified in Obesity Medicine, Founder of Clinique Reversa

Brenda Bennett

Author, Food Blogger, Founder at SugarFreeMom.com

Dr. Ritamarie Loscalzo

Author, Metabolic Recovery Specialist, & Clinical Nutritionist
Dr. Kim Dennis

Psychiatrist, Specializes in Eating Disorders & Addiction Medicine

Clarissa Kennedy

Food Addiction/Eating Disorder Recovery Specialist

Heidi Giaever

Nutrition Consultant, X-Pert Diabetes Health Trainer, & Health Coach

Dr. Tony Royle

Author, Triathlete, & Ambassador for Public Health Collaboration

Maggie Berghoff

Author, Entrepreneur, Functional Medicine Nurse Practitioner

Doug Reynolds

Founder and CEO of LowCarbUSA President of TheSMHP.org

Angela Foster

Nutritionist, Health & Performance Coach, Creator of BioSyncing®?

Bitten Jonsson

Registered Nurse, Sugar Addiction Specialist, ADDIS/SUGAR Certified

David Wolfe

Registered Dietitian, Addiction Coach, Co-Founder of SUGARxGlobal.com

Dr. Sarah Myhill

Naturopathic Physician, Author, Clinical Director, ME/CFS Specialist

Dr. Joy Jacobs

Clinical Psychologist, Asst. Clinical Professor at UCSD School of Medicine

Dr. Joan Ifland

Food Addiction Specialist, Author, & Founder of Food Addiction Reset

Dr. Vera Tarman

Food Addiction Expert, Writer, Speaker, & Author of Food Junkies

Amanda Leith

Food Addiction Counselor, FAI/ACORN Certified Food Addiction Professional

Karly Pitman

Author, Teacher, Facilitator, Founder of Growing Human(kind)ness

Suzanne Schneider

PhD Researcher, Studied Low Carb Diets in End Stage Renal Disease

Roberta Ruggiero

President and Founder of the Hypoglycemia Support Foundation

John & Kristi Scott

Owners of Fatso's Cheketos