Food Junkies Summit Day 13!!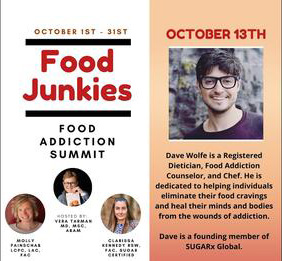 Dave has been working as a Registered Dietitian (RD) since 2013. He started in hospital care, then became a Certified Nutrition Support Clinician to better support patients unable to eat by mouth. After moving, he began working in a bariatric clinic, addressing Weight Management, Emotional Eating, and Sugar Addiction.
Dave has been the consulting RD for Renascent, a drug, alcohol, and now food treatment program in Toronto for Canadian women since 2015.
He is a Board Member for The Food Addiction Institute (FAI) and serves as Co-Chair for its Webinar Committee, editing and managing bi-monthly food addiction webinars for the FAI YouTube Channel.
Graduating from the first class of the International School for Food Addiction Counseling and Treatment (INFACT), Dave became certified as a Food Addiction Counselor (FAC) through the Nordic-Baltic Regional Certification Board. He has studied under Phil Werdell M.A; Bitten Jonsson RN; Marty Lerner PhD; H. Theresa Wright MS, RD, LDN; Vera Tarman MD; and school founder, Esther Helga Guðmundsdóttir MSc. Dave is a co-founder of SUGARx Global. ~ Vera Ingrid Tarman