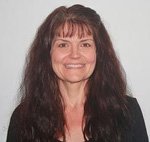 A recovering food addict, Debbie Danowski, Ph.D. has maintained a weight loss greater than the amount she now weighs for more than 12 years. As an alumnus of a food addiction treatment center, Dr. Danowski has consistently used the recovery program outlined in her first book, Why Can't I Stop Eating? to enjoy a 166-pound weight loss without the dangerous health risks.
Professionally, Dr. Danowski has written more than 100 articles for national and local publications, including First For Women, Woman's Day, and Seventeen Magazine. She has also spoken at countless meetings, seminars and conferences about food addiction, including Food Addiction 2000, the first national conference held on the disease. Additionally, Dr. Danowski was employed by the food addiction unit of a national treatment center, to educate mental health professionals about food addiction recovery.
Currently, Dr. Danowski is an assistant professor of English at Sacred Heart University in Fairfield, Connecticut and a member of the University's Eating Disorders Prevention Team. Dr. Danowski earned her Ph.D. at Capella University in Minneapolis, Minnesota where she studied food representation in film. Dr. Danowski also has a Masters Degree in Public Communications with emphasis in television, radio, and film from Syracuse University.
In this episode:
The personal
Inpatient Treatment Experience
Food Addiction Recovery as a Vegan
12 Step experience
Recovery today vs early days
Her books
Kids and Sugar
Resistance to Food Addiction
Working with the Food Addiction Institute and SHiFT
What's next?