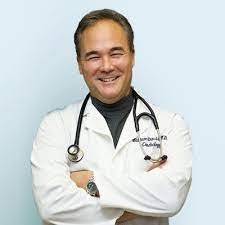 Dr. William Davis is a Milwaukee-based American cardiologist, low-carbohydrate diet advocate, and author of health books known for his stance against "modern wheat", which he labels a "perfect, chronic poison.
He is the author of several books, including the notable Wheat Belly: Lose the Wheat, Lose the Weight and Find Your Path Back to Health, along with its sister publications: Wheat Belly Cookbook, and 10 Day Grain Detox. He also wrote UnDoctored: Why Health Care Has Failed You and How You Can Become Smarter than Your Doctor and his most recent book Super Gut: Reprogram your Microbiome and Restore your Health, Lose weight and Curb back the Clock. All of these books have attempted to overturn our current health care practices, putting the power into the hands of the consumers.
The driving theme in all of Dr. William Davis' books is self-empowerment, providing readers with powerful tools that cut through the misinterpretations, misconceptions, misleading marketing, and bad science that passes as nutritional and health information.
In today's episode of "The Food Junkies Podcast"
Dr. Davis' personal and professional journey
The toxicity of wheat
Addiction and wheat
Oxytocin deficiency
Probiotics, Vitamins, and Minerals
Dr. Davis' latest book: UnDoctored
Surgery & medications
Pushback
Signature Question