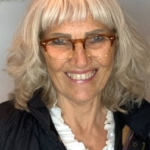 Today, in this reprisal episode, Vera interviews a mentor and colleague – Esther Helga Gudmundsdottir.
Esther is a pioneer in the field of food addiction treatment. She opened one of the first food addiction treatment programs in the world, MFM. The MFM program in Iceland has treated approximately 3000 Icelanders. Esther's program gives them hope and the tools to achieve long-term recovery and is based on the twelve steps of Alcoholics Anonymous.
Esther is the founder of INFACT, an international training program for any type of professional willing to learn about food addiction and how to help those suffering from it, and Executive Director and Chair of the Food Addiction Institute, an independent, non-profit organization whose mission is to support the healing of all food addicts.
In This Episode, you Will Learn:
Esther's personal and professional journey
A message of Hope
The Food Addiction Institute
MFM/Food Addiction Counseling Center
The International Food Addiction Counselor Training (INFACT) program
The components of Food Addiction Treatment that Esther feels are essential
What Esther has had to change in how she treats Food Addiction
What are Esther's unique contributions to the Food Addiction Field
What's next for Esther
Our Signature Question