Food Junkies Summit Day 7 !!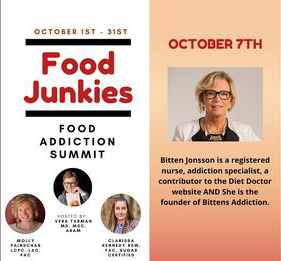 Bitten is a close personal friend and colleague to our whole podcast team. She is a registered nurse, addiction specialist, a contributor to the Diet Doctor website AND She is the founder of Bitten's Addiction. She has been helping people recover from sugar/flour/processed food addiction for nearly 30 years.
Inspired by her own story about addiction, she developed a passion to help others become aware of their relationship with these drug foods and now shows people the way to heal and recover from sugar addiction.
Her mission is to spread knowledge about sugar addiction and to teach and train professionals how to screen, assess, evaluate and diagnose sugar addiction using the SUGAR tool she helped develop. Through this process, professionals can help individuals detox from their "drug foods" and find long-lasting recovery. Through her Facebook Group Sugarbomb in your brain, she has connected those struggling with Sugar Addiction, and now over 9,000 members support each other through the daily struggles with sugar addiction AND celebrate the victories that come along with recovery. ~ Vera Ingrid Tarman