Food Junkies Summit Day 8 !!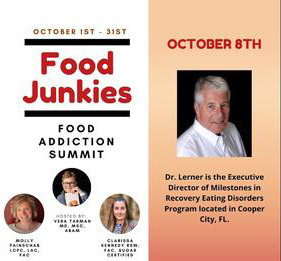 Dr. Lerner is the Executive Director of the Milestones in Recovery Eating Disorders Program located in Cooper City, FL.
A graduate of Nova Southeastern University, Dr. Lerner is a licensed and board-certified clinical psychologist who has appeared on numerous national television and radio programs that include The NPR Report, 20/20, Discovery Health, and ABC's Nightline, as well as having authored several articles related to eating disorders in professional publications, national magazines, and newspapers including USA Today, The Wall Street Journal, New York Times, Miami Herald, Orlando, and Hollywood Sun-Sentinels. Dr. Lerner has written a book, "A Guide to Eating Disorder Recovery".
~ Vera Ingrid Tarman