Food Junkies Summit Day 4 !!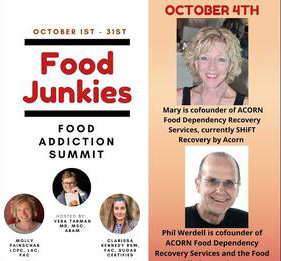 Mary Foushi holds a degree in Human Services with a specialization in Addiction Studies. She is a certified relapse-prevention specialist, a certified food addiction professional, and facilitates groups, workshops, and weeklong food addiction recovery intensives in the United States and abroad. Mary is co-founder of ACORN Food Dependency Recovery Services, currently SHiFT Recovery by Acorn (foodaddiction.com), and has helped thousands of late-stage food addicts move toward abstinence and recovery. As a recovering food addict, she is maintaining a 195-pound weight loss for over 27 years. Ms. Foushi is coauthor of Food Addiction Recovery: A New Model of Professional Support—The ACORN Primary Intensive.
Phil Werdell, MA, was a college teacher and innovator in liberal arts and graduate education for 25 years. After finding recovery from late-stage food addiction, he became a lead counselor at Glenbeigh Psychiatric Hospital of Tampa's residential food addiction program and Rader Institute of Washington's outpatient eating disorders program. Mr. Werdell is cofounder of ACORN Food Dependency Recovery Services and the Food Addiction Institute. He has written eight books on food addiction including "Physical Craving and Food Addiction: A Review of the Science." Phil's most recent writing is a second edition of the Disease Concept of Food Addiction. He is currently working on a summary of outcome evaluations of food addiction treatment and a three-volume set of books on food addiction denial.