Don't Miss Out
ENROLL now! Course starts Oct 3

DO YOU FEEL…
Completely out of control around certain foods.
Obsessed with food – sometimes food is all you think about.
Ashamed about how much you eat some days.
Desperate to find the next "miracle diet" that will finally work for you.
Your binges and "secret eating" have led to obesity or medical problems, but you still can't stop.
You make promises to yourself about taking control of your eating… and then promptly break them, every time.
Hopeless… will I ever be able to change my eating habits?
If this sounds like you, then you've come to the right place!
The Sugar & Food Addiction course with addiction specialist, Dr. Vera Tarman, is exactly what you've been looking for! It's a three-week immersive experience with Dr. Tarman, and her team of food addiction counselors, who will give you the tools you need to make sugar addiction a thing of the past. No matter how long you've been living with sugar or food addiction or how far-gone you feel, you can take control back.
---
THIS WEEK
100% FREE TO ATTEND:
SEPTEMBER 26 – OCTOBER 2, 2022

The World's Largest Sugar Summit!
The 9th Semi-Annul Quit Sugar Summit
---
Even More Experts for our Sugar Free September!
How to Quit Sugar Forever!
---
Be Sure to Part of a Community of over 12,000 & Take in the Latest Food Junkies Podcast Below
---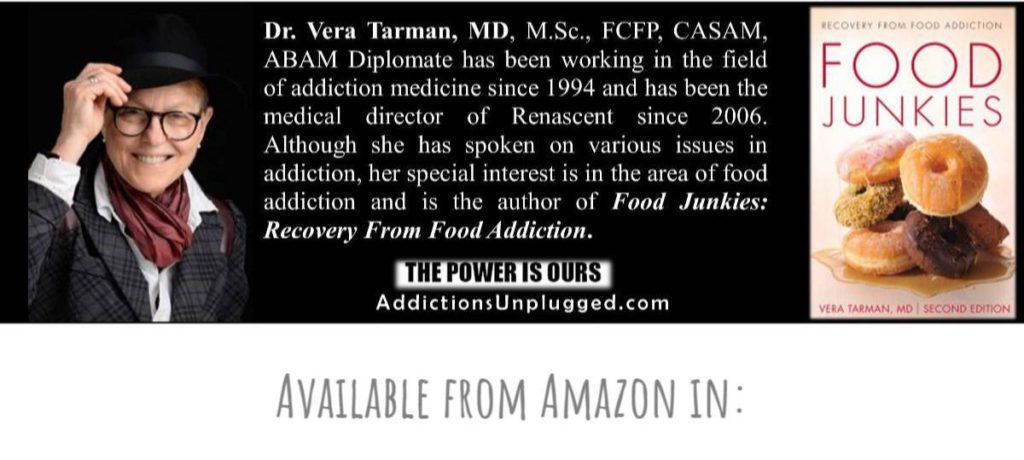 Amazon.com and Amazon.ca or on Audible
---
Understanding Addiction, Food Addiction and Obesity